BEAUTIFUL CONTACT LENSES FOR YOUR DISCERNING EYES
With an emphasis on proper lens care to promote safe, problem-free contact lens wear, we provide contact lenses that are custom fitted for maximum comfort and clarity of vision.
Soft contact lenses are available in daily, bi-weekly or monthly replacement formats to correct spherical, astigmatic or multifocal prescriptions. Rigid Gas Permeable lenses are also available for a more economical long term solution to correct spherical, astigmatic, multifocal or keratoconus prescriptions.
We carry contact lenses from all of the major suppliers.
Acuvue

Alcon

Bausch & Lomb

Coopervision
Daily Replacement Lenses
The healthiest and most convenient way to wear contact lenses, Daily Replacement Contact Lenses are designed to worn one time only and disposed of afterwards. Since there is no need for solutions or cases they are ideal for sports, holidays, or for occasional wear. Available to correct almost all prescriptions they are also the best solution for those with dry eyes because they are always fresh, clean and fully lubricated.
Bi Weekly Replacement
The Acuvue Oasys Lenses are designed to be replaced ever two weeks; these lenses are coated with a lubricant called Hydraclear that gradually wears out over the two week period. Available in spherical, astigmatic and multifocal designs Acuvue has been one of the most popular contact lens brands since first introduced in 1986.
Monthly Replacement
The most economical way to wear soft contact lenses these lenses are designed to be worn for a month's worth of wear before needing replacement. When worn on a daily basis modern oxygen permeable soft contact lenses provide a safe comfortable alternative to correcting your vision with glasses. These lenses are available in almost all prescriptions with custom made options available for those with very strong prescriptions or a high degree of astigmatism.
RGP Lenses
Rigid Gas Permeable Contact Lenses are made from a firm breathable material containing silicon and are precisely custom fitted to match the shape of the eye. Though not as popular as soft contact lenses since they do take some time to adapt to, they offer the wearer clearer vision because the material does not flex during blinking. The rigid nature of the lens material also offers benefits in correcting visual defects caused by corneal distortion. One pair of lenses usually last over 2 years.
RGP lenses are suitable for;
Providing the sharpest vision possible with contact lenses
The most cost effective way to wear contact lenses
The correction of strong astigmatism
The correction of presbyopia
The treatment of keratoconus
We stand behind our premium quality optical products and high level of customer care at Whalley Optical Centre. You can count on us to make sure things are done right!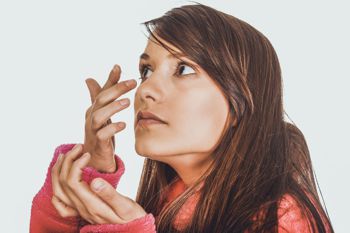 "Hi…I tried to make a comment for a testimonial but couldn't figure it out. Also thank you again Keith for doing such a great job fitting me for my new contact lenses! I love them!"
Lynn S.