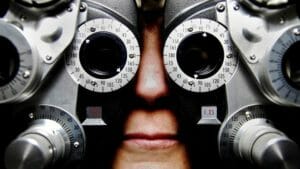 WE WILL MAKE SURE YOU HAVE THE PROPER EYEWEAR FOR YOU
We stand behind our premium quality optical products and high level of customer care at Whalley Optical Centre. You can count on us to make sure things are done right!
Location
Situated in our original location along King George Boulevard in the Historic Whalley's Corner neighborhood of Surrey, we boast the safest parking in town as we are located right next door to the Whalley / City Centre RCMP office that staffs over 80 working officers. Our modest location keeps the overhead down so that we offer very competitive pricing with quality being second to none.
Our History
Independently owned and operated, Whalley Optical Centre was opened in 1978 by Erich Sprecher, a Master Optician trained in Germany. His son Lutz became involved in the business soon after and was taught the finer points of traditional eyewear dispensing by his father. Over the past 35+ years, Lutz has built on these principles to develop a comprehensive knowledge in the details of lens design, custom-fitting spectacle frames for style and function, troubleshooting eyewear problems, and custom contact lens fitting for maximum comfort and clarity of vision. These many years of service give Lutz a broad range of experience in advising customers on the most appropriate solutions for their eyewear requirements.
The long history of the our business has allowed us to evaluate all of the major and local manufacturers' products. A system of eyewear dispensing has been developed that emphasizes a quality, finished product over a wide price range. The original principles of providing high quality products, of servicing what we sell, and providing dependable after-sales service remain in place to this day.
Licensed Opticians
At Whalley Optical Centre your eyewear will be custom designed and fitted by Licensed Opticians, two of which have over 35 years of experience each in the eye care industry.
A Licensed Optician is a licensed professional trained to help you see better – whether you're near or far-sighted, or have low vision due to more complex eye health issues. It's reassuring to know the profession of Opticianry in British Columbia is regulated and governed by strict standards to protect your vision and ensure Licensed Opticians provide you care of the highest standard.
Licensed Opticians recommend eyeglass frames, lenses and lens coatings after considering the power of the prescription while also taking into account the customer's occupation, habits, and facial features. They can also replace existing eyewear for a client without seeking a new prescription from an ophthalmologist or optometrist.
When you purchase your eyeglasses at Whalley Optical Centre, you will receive free cleaning, adjustments and minor repairs for the life of your product.
OUR LEADERS, YOUR OPTICIANS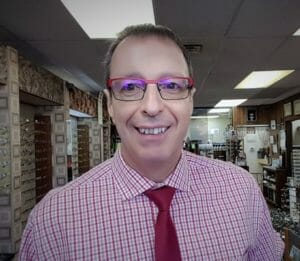 LUTZ SPRECHER
LICENSED OPTICIAN and CONTACT LENS FITTER
It was a summer job in 1968 which gave Lutz Sprecher his first experience of working in a wholesale optical lab with his father Erich Sprecher, a Master Optician trained in Germany. When Erich opened Whalley Optical Centre in 1978 the family's excitement of owning a business drew Lutz back in to the profession with the goal of becoming an Optician, which was realized five years later with high mark awards from Canadian Guild of Opticians courses.
After becoming certified Lutz found full time employment with London Optical in Tsawwassen while continuing working at Whalley Optical on Saturdays. Due to Erich's declining health Lutz took over management of the Whalley Optical in 1991 and in 1994 challenged the provincial exam to receive his Licensed Optician and Contact Lens Fitter Licences.
Even after almost 40 years in the profession every day is a new experience for Lutz because no two customers have the same eyewear needs. When children receive their first pair of glasses there is the added thrill of experiencing their reaction to clear vision for the first time. With older individuals Lutz discusses their lifestyle and visual challenges in order to design the best eyewear for their personal requirements.
While enjoying the technical challenges of translating a person's eyewear prescription into a wearable form the real fun is in finding the best frame styles which are as varied as people's individual facial features and personalities. When customers clearly see themselves in their new glasses for the first time and smile while thanking Lutz for a job well done he couldn't be happier because this was the goal he strives for each time someone comes in to the store.
Living in the neighbourhood means Lutz can walk or cycle to work while having the pleasure of passing through Holland Park daily and doing any necessary shopping on the way home. For a change of pace his other passion is music where Lutz plays and sings in a couple of amateur rock and roll bands. Every day is a full day.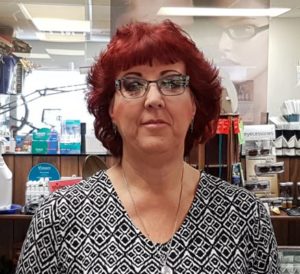 ELFIE STUMPF
LICENSED OPTICIAN
Elfie Stumpf began her career in the Optical in industry when she started working at Whalley Optical Centre as an Opticians Assistant in 1980. When the College of Opticians of BC was established Elfie successfully completed the Northern Alberta Institute of Technology's Optical Dispensing Course to become a Licensed Optician. With over 35 years in the profession Elfie has become accomplished at performing the necessary lab work and frame adjustments required to complete a pair of glasses from ordering to production and to final delivery.
With having a lifelong interest in fashion Elfie's primary duties evolved to becoming the frame purchaser for the business. With so many brands and styles to choose from Elfie has developed the store inventory to feature a unique mix of designer brands along with a wide selection of value priced frame styles. With her practiced eye for the best frames to suit the wearers natural style Elfie is always in demand from customers wanting her  to approve  their new look. Customers keep saying that Whalley Optical has a better frame selection than most of the larger stores in the mall!
When the neighbourhood businesses became organized to into the Downtown Surrey Business Improvement Association (DSBIA) Elfie was one of the original Directors that persevered in the long road to becoming recognized by the City Hall. Elfie is currently the Director for Safety and Security for the DSBIA and works with the Bike Patrol and other local organizations to help monitor the local situation.
When Elfie goes home it is to a floating home on the Fraser River which she shares with her family of pets which include Parrots, other birds and her constant companions her two dogs. She enjoys nature and walking her dogs in the outdoors while looking forward to her next trip on an African Safari.